Antalya International Airport
Antalya Airport is the major portal to the captivating Turkish Riviera. At present, 173 airline companies connect to the entire Turkish Riviera and Antalya through 52 countries with 213 different destinations. Antalya Airport offers customer-oriented, high quality service to its shareholders and to the region and makes a large contribution to the Turkish economy.
Click here to know more about the airport
Our stores at the airport
We suggest you also visit the Duty Free stores at Antalya International Airport next time you are visiting Turkey. There are two stores where you can buy name brand products at very competitive prices, thanks to the airport's tax exemption. Consult this website for all you need to know about our stores at the airport.
Travelers who are in terminal 1 can shop from Duty Free Departures Terminal nº:703. It's a store that offers a great selection of products from categories like food, and where you can find the best products to liven up your trip to your next destination.
Those in terminal 2 can shop from Duty Free Departures Terminal nº:603. Here, you can acquire fragrances and cosmetic products like skincare from brands like Clinique and Estee Lauder, which are great options to bring back home as gifts. Both stores at the airport are open twenty-four hours a day, so you don't have to worry about the time when shopping at the airport.
CIP Terminal is a boutique terminal away from classical airport formalities, specially designed for offering unique journey experience. Whether you are traveling through CIP Terminal on business, returning home to family, or heading on a holiday of a lifetime, Antalya Duty Free CIP Terminal nº:756 is the place to treat yourself or find a wonderful gift for a loved one. Save time for relaxing in the CIP Terminal by using Reserve & Collect.
If you wish to shop from categories like fragrances, beauty products, and cosmetics, then don't hesitate to visit our Duty Free stores. Make the most of your visit to the Antalya airport and discover the exclusive offers Duty Free has in store for you. We hope to see you soon!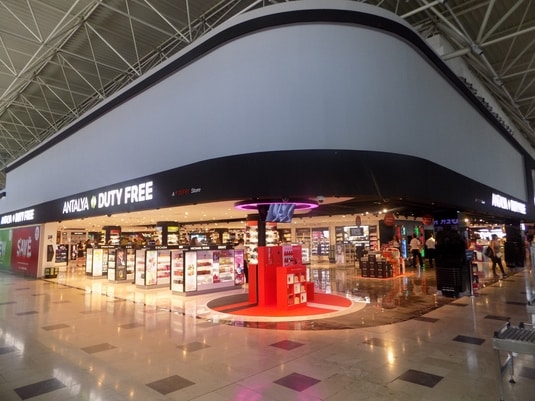 Terminal 1
Location

Departures Terminal nº:703

Shop Categories

Fragances, Confectionary, Accessories, Cosmetics

Telephone

0090 533 8133810

Email

sorumluopr@tr.dufry.com

Opening hours

24h hours
---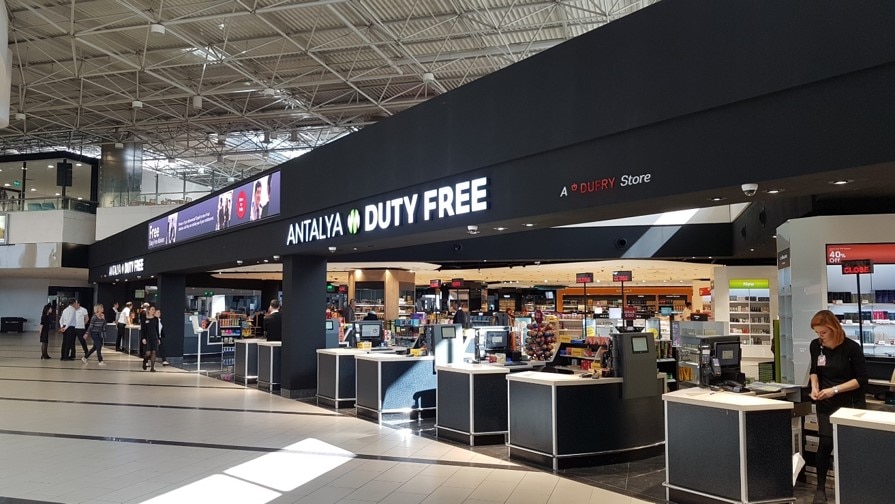 Terminal 2
Location

Departures Terminal nº:603

Shop Categories

Fragances, Confectionary, Accessories, Cosmetics

Telephone

0090 549 6047001

Email

sorumluopr@tr.dufry.com

Opening hours

24h hours
---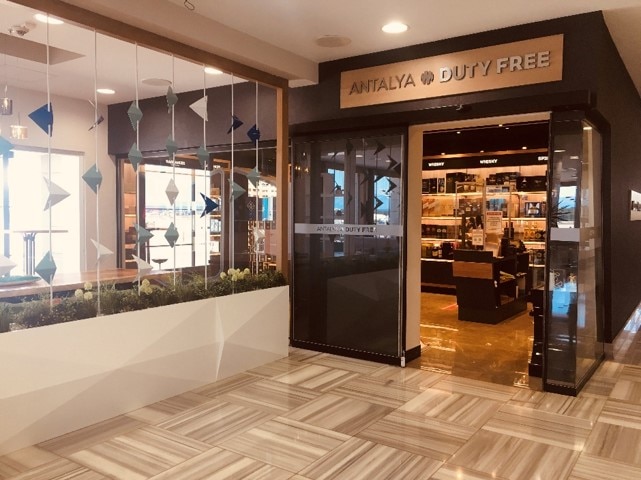 CIP Terminal
Location

Departures CIP Terminal nº: 756

Shop Categories

Fragrances, Confectionery, Accessories, Cosmetics, Liquor, Tobacco

Telephone

0090 533 8133810

Email

sorumluopr@tr.dufry.com

Opening hours

24h hours